Helena High School Band Boosters Fishing Tournament

March 18, 2017
March 18, 2017
Saturday
Location
Shelby 400
500 will be awarded to the winner. A $100 prize will also be given for the biggest fish. Other prizes could be awarded based on the number of boats that register in the tournament.
Sign in for the tournament will begin at 4 a.m. the morning of March 18. Sign in and weigh in will be at Shelby 400 Tournament from Safe Light at 3 p.m.
All proceeds from the tournament will go to the Helena High School Band and registration will take place the day of the tournament. Cash or card will be accepted.
For more information on the tournament, visit Helenahighband.com.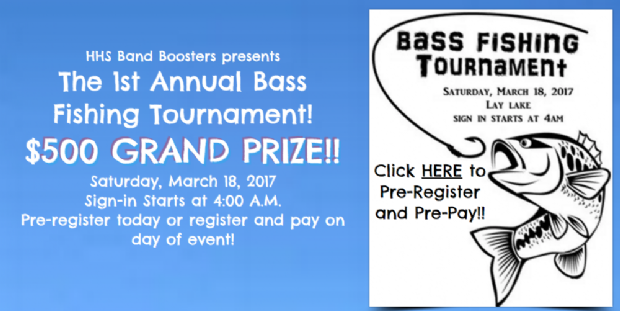 14D57BEE-3B0B-45DB-AC96-EAB394CA360C
---
---